Last updated on : 01-01-2012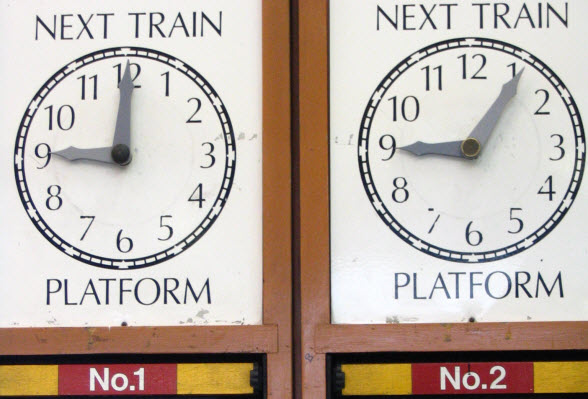 Hyderabad To Lingampally
| | | | | | | | | | | | | | | | | | | | | | | | | | | |
| --- | --- | --- | --- | --- | --- | --- | --- | --- | --- | --- | --- | --- | --- | --- | --- | --- | --- | --- | --- | --- | --- | --- | --- | --- | --- | --- |
| STATION | 47100 | 47101 | 47102 | 47103 | 47104 | 47105 | 47106 | 47107 | 47108 | 47109* | 47110* | 47111* | 47112 | 47113* | 47114 | 47115 | 47116 | 47117 | 47118 | 47119 | 47120 | 47121 | 47122 | 47123 | 47124 | 47125 |
| | HL1 | HL2 | HL3 | HL4 | HL5 | HL6 | HL7 | HL8 | HL9 | HL10* | HL11* | HL12* | HL13 | HL14* | HL15 | HL16 | HL17 | HL18 | HL19 | HL20 | HL21 | HL22 | HL23 | HL24 | HL25 | HL26 |
| Hyderabad | 5:10 | 6:00 | 6:40 | 7:20 | 7:50 | 8:20 | 9:00 | 9:35 | 10:10 | 10:50 | 11:25 | 11:55 | 13:05 | 14:30 | 15:10 | 15:40 | 16:00 | 16:50 | 17:35 | 18:05 | 19:00 | 19:30 | 20:00 | 20:50 | 21:20 | 21:50 |
| Lakdikapul | 5:13 | 6:03 | 6:43 | 7:23 | 7:53 | 8:23 | 9:03 | 9:38 | 10:13 | 10:53 | 11:28 | 11:58 | 13:08 | 14:33 | 15:13 | 15:43 | 16:03 | 16:53 | 17:38 | 18:08 | 19:03 | 19:33 | 20:03 | 20:53 | 21:23 | 21:53 |
| Khairatabad | 5:15 | 6:05 | 6:45 | 7:25 | 7:55 | 8:25 | 9:05 | 9:40 | 10:15 | 10:55 | 11:30 | 12:00 | 13:10 | 14:35 | 15:15 | 15:45 | 16:05 | 16:55 | 17:40 | 18:10 | 19:05 | 19:35 | 20:05 | 20:55 | 21:25 | 21:55 |
| Necklace Road | 5:17 | 6:07 | 6:47 | 7:27 | 7:57 | 8:27 | 9:07 | 9:42 | 10:17 | 10:57 | 11:32 | 12:02 | 13:12 | 14:37 | 15:17 | 15:47 | 16:07 | 16:57 | 17:42 | 18:12 | 19:07 | 19:37 | 20:07 | 20:57 | 21:27 | 21:57 |
| Begumpet | 5:22 | 6:12 | 6:52 | 7:32 | 8:02 | 8:32 | 9:12 | 9:47 | 10:22 | 11:02 | 11:37 | 12:07 | 13:17 | 14:42 | 15:22 | 15:52 | 16:12 | 17:02 | 17:47 | 18:17 | 19:12 | 19:42 | 20:12 | 21:02 | 21:32 | 22:02 |
| NatureCureHospital | 5:24 | 6:14 | 6:54 | 7:34 | 8:04 | 8:34 | 9:14 | 9:49 | 10:24 | 11:04 | 11:39 | 12:09 | 13:19 | 14:44 | 15:24 | 15:54 | 16:14 | 17:04 | 17:49 | 18:19 | 19:14 | 19:44 | 20:14 | 21:04 | 21:34 | 22:04 |
| Fatehnagar | 5:26 | 6:16 | 6:56 | 7:36 | 8:06 | 8:36 | 9:16 | 9:51 | 10:26 | 11:06 | 11:41 | 12:11 | 13:21 | 14:46 | 15:26 | 15:56 | 16:16 | 17:06 | 17:51 | 18:21 | 19:16 | 19:46 | 20:16 | 21:06 | 21:36 | 22:06 |
| Bharatnagar | 5:29 | 6:19 | 6:59 | 7:39 | 8:09 | 8:39 | 9:19 | 9:54 | 10:29 | 11:09 | 11:44 | 12:14 | 13:24 | 14:49 | 15:29 | 15:59 | 16:19 | 17:09 | 17:54 | 18:24 | 19:19 | 19:49 | 20:19 | 21:09 | 21:39 | 22:09 |
| Borabanda | 5:31 | 6:21 | 7:01 | 7:41 | 8:11 | 8:41 | 9:21 | 9:56 | 10:31 | 11:11 | 11:46 | 12:16 | 13:26 | 14:51 | 15:31 | 16:01 | 16:21 | 17:11 | 17:56 | 18:26 | 19:21 | 19:51 | 20:21 | 21:11 | 21:41 | 22:11 |
| Hitech City | 5:35 | 6:25 | 7:05 | 7:45 | 8:15 | 8:45 | 9:25 | 10:00 | 10:35 | 11:15 | 11:50 | 12:20 | 13:30 | 14:55 | 15:35 | 16:05 | 16:25 | 17:15 | 18:00 | 18:30 | 19:25 | 19:55 | 20:25 | 21:15 | 21:45 | 22:15 |
| Hafeezpet | 5:39 | 6:29 | 7:09 | 7:49 | 8:19 | 8:49 | 9:29 | 10:04 | 10:39 | 11:19 | 11:54 | 12:24 | 13:34 | 14:59 | 15:39 | 16:09 | 16:29 | 17:19 | 18:04 | 18:34 | 19:29 | 19:59 | 20:29 | 21:19 | 21:49 | 22:19 |
| Chandanagar | 5:44 | 6:34 | 7:14 | 7:54 | 8:24 | 8:54 | 9:34 | 10:09 | 10:44 | 11:24 | 11:59 | 12:29 | 13:39 | 15:04 | 15:44 | 16:14 | 16:34 | 17:24 | 18:09 | 18:39 | 19:34 | 20:04 | 20:34 | 21:24 | 21:54 | 22:24 |
| Lingampally | 5:50 | 6:40 | 7:20 | 8:00 | 8:30 | 9:00 | 9:40 | 10:15 | 10:50 | 11:30 | 12:05 | 12:40 | 13:45 | 15:10 | 15:50 | 16:20 | 16:40 | 17:40 | 18:20 | 18:45 | 19:40 | 20:15 | 20:40 | 21:30 | 22:00 | 22:30 |
Lingampally To Hyderabad
| | | | | | | | | | | | | | | | | | | | | | | | |
| --- | --- | --- | --- | --- | --- | --- | --- | --- | --- | --- | --- | --- | --- | --- | --- | --- | --- | --- | --- | --- | --- | --- | --- |
| STATION | 47126 | 47127 | 47128 | 47129 | 47130 | 47131 | 47132 | 47133 | 47134* | 47135* | 47136* | 47137* | 47138* | 47139 | 47140 | 47141 | 47142 | 47143 | 47144 | 47145 | 47146 | 47147 | 47148 |
| | LH1 | LH2 | LH3 | LH4 | LH5 | LH6 | LH7 | LH8 | LH9* | LH10* | LH11* | LH12* | LH13* | LH14 | LH15 | LH16 | LH17 | LH18 | LH19 | LH20 | LH21 | LH22 | LH23 |
| Lingampally | 5:40 | 6:00 | 7:00 | 7:30 | 8:10 | 8:40 | 9:10 | 9:55 | 10:25 | 11:00 | 11:40 | 12:15 | 12:50 | 15:05 | 16:00 | 16:50 | 18:10 | 18:25 | 18:55 | 19:50 | 20:50 | 21:40 | 22:10 |
| Chandanagar | 5:44 | 6:04 | 7:04 | 7:34 | 8:14 | 8:44 | 9:14 | 9:59 | 10:29 | 11:04 | 11:44 | 12:19 | 12:54 | 15:09 | 16:04 | 16:54 | 18:14 | 18:29 | 18:59 | 19:54 | 20:54 | 21:44 | 22:14 |
| Hafeezpet | 5:49 | 6:09 | 7:09 | 7:39 | 8:19 | 8:49 | 9:19 | 10:04 | 10:34 | 11:09 | 11:49 | 12:24 | 12:59 | 15:14 | 16:09 | 16:59 | 18:19 | 18:34 | 19:04 | 19:59 | 20:59 | 21:49 | 22:19 |
| Hitech City | 5:54 | 6:14 | 7:14 | 7:44 | 8:24 | 8:54 | 9:24 | 10:09 | 10:39 | 11:14 | 11:54 | 12:29 | 13:04 | 15:19 | 16:14 | 17:04 | 18:24 | 18:39 | 19:09 | 20:04 | 21:04 | 21:54 | 22:24 |
| Borabanda | 5:56 | 6:16 | 7:16 | 7:46 | 8:26 | 8:56 | 9:26 | 10:11 | 10:41 | 11:16 | 11:56 | 12:31 | 13:06 | 15:21 | 16:16 | 17:06 | 18:26 | 18:41 | 19:11 | 20:06 | 21:06 | 21:56 | 22:26 |
| Bharatnagar | 5:59 | 6:19 | 7:19 | 7:49 | 8:29 | 8:59 | 9:29 | 10:14 | 10:44 | 11:19 | 11:59 | 12:34 | 13:09 | 15:24 | 16:19 | 17:09 | 18:29 | 18:44 | 19:14 | 20:09 | 21:09 | 21:59 | 22:29 |
| Fatehnagar | 6:02 | 6:22 | 7:22 | 7:52 | 8:32 | 9:02 | 9:32 | 10:17 | 10:47 | 11:22 | 12:02 | 12:37 | 13:12 | 15:27 | 16:22 | 17:12 | 18:32 | 18:47 | 19:17 | 20:12 | 21:12 | 22:02 | 22:32 |
| NatureCureHospital | 6:04 | 6:24 | 7:24 | 7:54 | 8:34 | 9:04 | 9:34 | 10:19 | 10:49 | 11:24 | 12:04 | 12:39 | 13:14 | 15:29 | 16:24 | 17:14 | 18:34 | 18:49 | 19:19 | 20:14 | 21:14 | 22:04 | 22:34 |
| Begumpet | 6:05 | 6:25 | 7:25 | 7:55 | 8:35 | 9:05 | 9:35 | 10:20 | 10:50 | 11:25 | 12:05 | 12:40 | 13:15 | 15:30 | 16:25 | 17:15 | 18:35 | 18:50 | 19:20 | 20:15 | 21:15 | 22:05 | 22:35 |
| Necklace Road | 6:10 | 6:30 | 7:30 | 8:00 | 8:40 | 9:10 | 9:40 | 10:25 | 10:55 | 11:30 | 12:10 | 12:45 | 13:20 | 15:35 | 16:30 | 17:20 | 18:40 | 18:55 | 19:25 | 20:20 | 21:20 | 22:10 | 22:40 |
| Khairatabad | 6:12 | 6:32 | 7:32 | 8:02 | 8:42 | 9:12 | 9:42 | 10:27 | 10:57 | 11:32 | 12:12 | 12:47 | 13:22 | 15:37 | 16:32 | 17:22 | 18:42 | 18:57 | 19:27 | 20:22 | 21:22 | 22:12 | 22:42 |
| Lakdikapul | 6:14 | 6:34 | 7:34 | 8:04 | 8:44 | 9:14 | 9:44 | 10:29 | 10:59 | 11:34 | 12:14 | 12:49 | 13:24 | 15:39 | 16:34 | 17:24 | 18:44 | 18:59 | 19:29 | 20:24 | 21:24 | 22:14 | 22:44 |
| Hyderabad | 6:20 | 6:40 | 7:40 | 8:10 | 8:50 | 9:25 | 9:55 | 10:35 | 11:05 | 11:40 | 12:20 | 12:55 | 13:30 | 15:45 | 16:40 | 17:30 | 18:50 | 19:20 | 19:35 | 20:30 | 21:30 | 22:20 | 22:50 |
Falaknuma To Lingampally
| | | | | | | | | | | | | | | | | | | | | | | | | | | | | |
| --- | --- | --- | --- | --- | --- | --- | --- | --- | --- | --- | --- | --- | --- | --- | --- | --- | --- | --- | --- | --- | --- | --- | --- | --- | --- | --- | --- | --- |
| STATION | 47149 | 47150 | 47151 | 47152 | 47153 | 47154 | 47211 | 47155 | 47165 | 47156 | 47157 | 47198* | 47214 | 47158* | 47169* | 47160* | 47216* | 47161* | 47162* | 47163 | 47164 | 47218 | 47166 | 47207 | 47167 | 47203 | 47220 | 47170 |
| | FL1 | FL2 | FL3 | FL4 | FL5 | FL6 | MB1(Ladies) | FL8 | FL9 | FL10 | FL11 | FL12* | FL13 | FL14* | FL15* | FL16* | FL17* | FL18* | FL19* | FL20 | FL21 | FL22 | FL23 | FL24 | FL25 | FL26 | FL27 | FL28 |
| Falaknuma | 5:00 | 5:40 | 6:25 | 7:10 | 7:25 | 7:55 | 8:30 | 9:10 | 10:00 | 10:35 | 10:55 | 11:10 | 11:35 | 12:05 | 12:45 | 13:25 | 14:30 | 14:50 | 16:25 | 17:00 | 17:40 | 17:55 | 18:50 | 19:00 | 19:35 | 20:45 | 21:05 | 21:30 |
| Huppuguda | 5:03 | 5:43 | 6:28 | 7:13 | 7:28 | 7:58 | 8:33 | 9:13 | 10:03 | 10:38 | 10:58 | 11:13 | 11:38 | 12:08 | 12:48 | 13:28 | 14:33 | 14:53 | 16:28 | 17:03 | 17:43 | 17:58 | 18:53 | 19:03 | 19:38 | 20:48 | 21:08 | 21:33 |
| Yakutpura | 5:07 | 5:47 | 6:32 | 7:15 | 7:32 | 8:02 | 8:37 | 9:17 | 10:07 | 10:42 | 11:02 | 11:17 | 11:42 | 12:12 | 12:52 | 13:32 | 14:37 | 14:57 | 16:32 | 17:07 | 17:47 | 18:02 | 18:57 | 19:07 | 19:42 | 20:52 | 21:12 | 21:37 |
| Dabirpura | 5:09 | 5:49 | 6:34 | 7:17 | 7:34 | 8:04 | 8:39 | 9:19 | 10:09 | 10:44 | 11:04 | 11:19 | 11:44 | 12:14 | 12:54 | 13:34 | 14:39 | 14:59 | 16:34 | 17:09 | 17:49 | 18:04 | 18:59 | 19:09 | 19:44 | 20:54 | 21:14 | 21:39 |
| Malakpet | 5:11 | 5:51 | 6:36 | 7:19 | 7:36 | 8:06 | 8:41 | 9:21 | 10:11 | 10:46 | 11:06 | 11:21 | 11:46 | 12:16 | 12:56 | 13:36 | 14:41 | 15:01 | 16:36 | 17:11 | 17:51 | 18:06 | 19:01 | 19:11 | 19:46 | 20:56 | 21:16 | 21:41 |
| Kacheguda | 5:15 | 5:55 | 6:40 | 7:23 | 7:40 | 8:10 | 8:45 | 9:25 | 10:15 | 10:50 | 11:10 | 11:25 | 11:50 | 12:20 | 13:00 | 13:40 | 14:45 | 15:05 | 16:40 | 17:15 | 17:55 | 18:10 | 19:05 | 19:15 | 19:50 | 21:00 | 21:20 | 21:45 |
| Vidyanagar | 5:19 | 5:59 | 6:44 | 7:27 | 7:44 | 8:14 | 8:49 | 9:29 | 10:19 | 10:54 | 11:14 | 11:29 | 11:54 | 12:24 | 13:04 | 13:44 | 14:49 | 15:09 | 16:44 | 17:19 | 17:59 | 18:14 | 19:09 | 19:19 | 19:54 | 21:04 | 21:24 | 21:49 |
| JamaiOsmania | 5:21 | 6:01 | 6:46 | 7:29 | 7:46 | 8:16 | 8:51 | 9:31 | 10:21 | 10:56 | 11:16 | 11:31 | 11:56 | 12:26 | 13:06 | 13:46 | 14:51 | 15:11 | 16:46 | 17:21 | 18:01 | 18:16 | 19:11 | 19:21 | 19:56 | 21:06 | 21:26 | 21:51 |
| Arts College | 5:23 | 6:03 | 6:48 | 7:31 | 7:48 | 8:18 | 8:53 | 9:33 | 10:23 | 10:58 | 11:18 | 11:33 | 11:58 | 12:28 | 13:08 | 13:48 | 14:53 | 15:13 | 16:48 | 17:23 | 18:03 | 18:18 | 19:13 | 19:23 | 19:58 | 21:08 | 21:28 | 21:53 |
| Sitafalmandi | 5:25 | 6:05 | 6:50 | 7:33 | 7:50 | 8:20 | 8:55 | 9:35 | 10:25 | 11:00 | 11:20 | 11:35 | 12:00 | 12:30 | 13:10 | 13:50 | 14:55 | 15:15 | 16:50 | 17:25 | 18:05 | 18:20 | 19:15 | 19:25 | 20:00 | 21:10 | 21:30 | 21:55 |
| Secunderabad | 5:32 | 6:12 | 6:57 | 7:40 | 8:02 | 8:27 | 9:02 | 9:42 | 10:35 | 11:07 | 11:35 | 11:42 | 12:07 | 12:37 | 13:17 | 13:57 | 15:02 | 15:22 | 16:57 | 17:35 | 18:12 | 18:27 | 19:24 | 19:37 | 20:10 | 21:20 | 21:37 | 22:02 |
| James Street | 5:38 | 6:18 | 7:03 | 7:46 | 8:08 | 8:33 | 9:08 | 9:48 | 10:41 | 11:15 | 11:41 | 11:48 | 12:13 | 12:43 | 13:23 | 14:03 | 15:08 | 15:28 | 17:03 | 17:41 | 18:16 | 18:33 | 19:30 | 19:43 | 20:16 | 21:26 | 21:43 | 22:08 |
| SanjeevaiahPark | 5:40 | 6:20 | 7:05 | 7:48 | 8:10 | 8:35 | 9:10 | 9:50 | 10:43 | 11:17 | 11:43 | 11:50 | 12:15 | 12:45 | 13:25 | 14:05 | 15:10 | 15:30 | 17:05 | 17:43 | 18:18 | 18:35 | 19:32 | 19:45 | 20:18 | 21:28 | 21:45 | 22:10 |
| Begumpet | 5:43 | 6:23 | 7:08 | 7:51 | 8:13 | 8:38 | 9:13 | 9:53 | 10:46 | 11:20 | 11:46 | 11:53 | 12:18 | 12:48 | 13:28 | 14:08 | 15:13 | 15:33 | 17:08 | 17:46 | 18:21 | 18:38 | 19:35 | 19:48 | 20:21 | 21:31 | 21:48 | 22:13 |
| NatureCureHospital | 5:45 | 6:25 | 7:10 | 7:53 | 8:15 | 8:40 | 9:15 | 9:55 | 10:48 | 11:22 | 11:48 | 11:55 | 12:20 | 12:50 | 13:30 | 14:10 | 15:15 | 15:35 | 17:10 | 17:48 | 18:23 | 18:40 | 19:37 | 19:50 | 20:23 | 21:33 | 21:50 | 22:15 |
| Fatehnagar | 5:47 | 6:27 | 7:12 | 7:55 | 8:17 | 8:42 | 9:17 | 9:57 | 10:50 | 11:24 | 11:50 | 11:57 | 12:22 | 12:52 | 13:32 | 14:12 | 15:17 | 15:37 | 17:12 | 17:50 | 18:25 | 18:42 | 19:39 | 19:52 | 20:25 | 21:35 | 21:52 | 22:17 |
| Bharatnagar | 5:50 | 6:30 | 7:15 | 7:58 | 8:20 | 8:45 | 9:20 | 10:00 | 10:53 | 11:27 | 11:53 | 12:00 | 12:25 | 12:55 | 13:35 | 14:15 | 15:20 | 15:40 | 17:15 | 17:53 | 18:28 | 18:45 | 19:42 | 19:55 | 20:28 | 21:38 | 21:55 | 22:20 |
| Borabanda | 5:52 | 6:32 | 7:17 | 8:03 | 8:22 | 8:47 | 9:22 | 10:02 | 10:55 | 11:29 | 11:55 | 12:02 | 12:27 | 12:57 | 13:37 | 14:17 | 15:22 | 15:42 | 17:17 | 17:55 | 18:30 | 18:47 | 19:44 | 19:57 | 20:30 | 21:40 | 21:57 | 22:22 |
| Hitech City | 5:56 | 6:36 | 7:21 | 8:08 | 8:26 | 8:51 | 9:26 | 10:04 | 10:59 | 11:33 | 11:57 | 12:04 | 12:29 | 13:01 | 13:41 | 14:21 | 15:26 | 15:46 | 17:21 | 17:59 | 18:34 | 18:51 | 19:48 | 20:01 | 20:34 | 21:44 | 22:01 | 22:26 |
| Hafeezpet | 6:00 | 6:40 | 7:25 | 8:12 | 8:32 | 8:55 | 9:32 | 10:08 | 11:03 | 11:37 | 12:01 | 12:08 | 12:33 | 13:05 | 13:45 | 14:25 | 15:30 | 15:50 | 17:25 | 18:03 | 18:38 | 18:55 | 19:52 | 20:05 | 20:38 | 21:48 | 22:05 | 22:30 |
| Chandanagar | 6:05 | 6:45 | 7:30 | 8:15 | 8:37 | 9:00 | 9:37 | 10:13 | 11:08 | 11:42 | 12:06 | 12:13 | 12:38 | 13:10 | 13:50 | 14:30 | 15:35 | 15:55 | 17:30 | 18:08 | 18:43 | 19:00 | 19:57 | 20:10 | 20:43 | 21:53 | 22:10 | 22:35 |
| Lingampally | 6:10 | 6:55 | 7:40 | 8:20 | 8:50 | 9:15 | 9:50 | 10:25 | 11:15 | 11:50 | 12:15 | 12:30 | 12:50 | 13:15 | 14:05 | 14:40 | 15:55 | 16:05 | 17:50 | 18:15 | 19:05 | 19:10 | 20:05 | 20:25 | 20:55 | 22:00 | 22:20 | 22:45 |
Lingampally To Falaknuma
| | | | | | | | | | | | | | | | | | | | | | | | | | | | | | | | |
| --- | --- | --- | --- | --- | --- | --- | --- | --- | --- | --- | --- | --- | --- | --- | --- | --- | --- | --- | --- | --- | --- | --- | --- | --- | --- | --- | --- | --- | --- | --- | --- |
| STATION | 47171 | 47173 | 47213 | 47174 | 47175 | 47176 | 47177 | 47178 | 47212 | 47179* | 47189 | 47180 | 47181 | 47215 | 47182* | 47183 | 47184* | 47185 | 47186 | 47217 | 47187 | 47210 | 47188 | 47190 | 47191 | 47219 | 47192 | 47193 | 47159 | 47194 | 47195 |
| | LF1 | LF2 | LF3 | LF4 | LF5 | LF6 | LF7 | LF8 | LF9 | LF10* | LF11 | LF12 | LF13 | LF14 | LF15* | LF16 | LF17* | LF18 | LF19 | LF20 | LF21 | LF22 | MB2(Ladies) | LF24 | LF25 | LF26 | LF27 | LF28 | LF29 | LF30 | LF31 |
| Lingampally | 4:50 | 6:20 | 6:55 | 7:10 | 7:45 | 8:30 | 9:00 | 9:25 | 10:10 | 10:40 | 11:25 | 12:00 | 12:40 | 13:00 | 13:20 | 14:30 | 14:55 | 15:20 | 16:15 | 16:30 | 17:10 | 17:30 | 17:55 | 18:40 | 19:15 | 19:30 | 20:10 | 20:30 | 21:00 | 21:45 | 22:30 |
| Chandanagar | 4:54 | 6:24 | 6:59 | 7:14 | 7:49 | 8:34 | 9:04 | 9:29 | 10:14 | 10:44 | 11:29 | 12:04 | 12:44 | 13:04 | 13:24 | 14:34 | 14:59 | 15:24 | 16:19 | 16:34 | 17:14 | 17:34 | 17:59 | 18:44 | 19:19 | 19:34 | 20:14 | 20:34 | 21:04 | 21:49 | 22:34 |
| Hafeezpet | 4:59 | 6:29 | 7:04 | 7:19 | 7:54 | 8:39 | 9:09 | 9:34 | 10:19 | 10:49 | 11:34 | 12:09 | 12:49 | 13:09 | 13:29 | 14:39 | 15:04 | 15:29 | 16:24 | 16:39 | 17:19 | 17:39 | 18:04 | 18:49 | 19:24 | 19:39 | 20:19 | 20:39 | 21:09 | 21:54 | 22:39 |
| Hitech City | 5:04 | 6:34 | 7:09 | 7:24 | 7:59 | 8:44 | 9:14 | 9:39 | 10:24 | 10:54 | 11:39 | 12:14 | 12:54 | 13:14 | 13:34 | 14:44 | 15:09 | 15:34 | 16:29 | 16:44 | 17:24 | 17:44 | 18:09 | 18:54 | 19:29 | 19:44 | 20:24 | 20:44 | 21:14 | 21:59 | 22:44 |
| Borabanda | 5:06 | 6:36 | 7:11 | 7:26 | 8:01 | 8:46 | 9:16 | 9:41 | 10:26 | 10:56 | 11:41 | 12:16 | 12:56 | 13:16 | 13:36 | 14:46 | 15:11 | 15:36 | 16:31 | 16:46 | 17:26 | 17:46 | 18:11 | 18:56 | 19:31 | 19:46 | 20:26 | 20:46 | 21:16 | 22:01 | 22:46 |
| Bharatnagar | 5:09 | 6:39 | 7:14 | 7:29 | 8:04 | 8:49 | 9:19 | 9:44 | 10:29 | 10:59 | 11:44 | 12:19 | 12:59 | 13:19 | 13:39 | 14:49 | 15:14 | 15:39 | 16:34 | 16:49 | 17:29 | 17:49 | 18:14 | 18:59 | 19:34 | 19:49 | 20:29 | 20:49 | 21:19 | 22:04 | 22:49 |
| Fatehnagar | 5:12 | 6:42 | 7:17 | 7:32 | 8:07 | 8:52 | 9:22 | 9:47 | 10:32 | 11:02 | 11:47 | 12:22 | 13:02 | 13:22 | 13:42 | 14:52 | 15:17 | 15:42 | 16:37 | 16:52 | 17:32 | 17:52 | 18:17 | 19:02 | 19:37 | 19:52 | 20:32 | 20:52 | 21:22 | 22:07 | 22:52 |
| NatureCureHospital | 5:14 | 6:44 | 7:19 | 7:34 | 8:09 | 8:54 | 9:24 | 9:49 | 10:34 | 11:04 | 11:49 | 12:24 | 13:04 | 13:24 | 13:44 | 14:54 | 15:19 | 15:44 | 16:39 | 16:54 | 17:34 | 17:54 | 18:19 | 19:04 | 19:39 | 19:54 | 20:34 | 20:54 | 21:24 | 22:09 | 22:54 |
| Begumpet | 5:15 | 6:45 | 7:20 | 7:35 | 8:10 | 8:55 | 9:25 | 9:50 | 10:35 | 11:05 | 11:50 | 12:25 | 13:05 | 13:25 | 13:45 | 14:55 | 15:20 | 15:45 | 16:40 | 16:55 | 17:35 | 17:55 | 18:20 | 19:05 | 19:40 | 19:55 | 20:35 | 20:55 | 21:25 | 22:10 | 22:55 |
| SanjeevaiahPark | 5:20 | 6:50 | 7:25 | 7:40 | 8:15 | 9:00 | 9:30 | 9:55 | 10:40 | 11:10 | 11:55 | 12:30 | 13:10 | 13:30 | 13:50 | 15:00 | 15:25 | 15:50 | 16:45 | 17:00 | 17:40 | 18:00 | 18:25 | 19:10 | 19:45 | 20:00 | 20:40 | 21:00 | 21:30 | 22:15 | 23:00 |
| JamesStreet | 5:22 | 6:52 | 7:27 | 7:42 | 8:17 | 9:02 | 9:32 | 9:57 | 10:42 | 11:12 | 11:57 | 12:32 | 13:12 | 13:32 | 13:52 | 15:02 | 15:27 | 15:52 | 16:47 | 17:02 | 17:42 | 18:02 | 18:27 | 19:12 | 19:47 | 20:02 | 20:42 | 21:02 | 21:32 | 22:17 | 23:02 |
| Secunderabad | 5:32 | 7:07 | 7:42 | 7:57 | 8:27 | 9:12 | 9:47 | 10:07 | 10:52 | 11:30 | 12:07 | 12:42 | 13:22 | 13:42 | 14:02 | 15:12 | 15:37 | 16:07 | 16:57 | 17:12 | 18:00 | 18:12 | 18:37 | 19:22 | 20:05 | 20:12 | 20:52 | 21:30 | 21:42 | 22:27 | 23:15 |
| Sitafalmandi | 5:37 | 7:12 | 7:47 | 8:02 | 8:32 | 9:17 | 9:52 | 10:12 | 10:57 | 11:35 | 12:12 | 12:47 | 13:27 | 13:47 | 14:07 | 15:17 | 15:42 | 16:12 | 17:02 | 17:17 | 18:05 | 18:17 | 18:42 | 19:27 | 20:10 | 20:17 | 20:57 | 21:35 | 21:47 | 22:32 | |
| Arts College | 5:39 | 7:14 | 7:49 | 8:04 | 8:34 | 9:19 | 9:54 | 10:14 | 10:59 | 11:37 | 12:14 | 12:49 | 13:29 | 13:49 | 14:09 | 15:19 | 15:44 | 16:14 | 17:04 | 17:19 | 18:07 | 18:19 | 18:44 | 19:29 | 20:12 | 20:19 | 20:59 | 21:37 | 21:49 | 22:34 | |
| Jamai Osmania | 5:41 | 7:16 | 7:51 | 8:06 | 8:36 | 9:21 | 9:56 | 10:16 | 11:01 | 11:39 | 12:16 | 12:51 | 13:31 | 13:51 | 14:11 | 15:21 | 15:46 | 16:16 | 17:06 | 17:21 | 18:09 | 18:21 | 18:46 | 19:31 | 20:14 | 20:21 | 21:01 | 21:39 | 21:51 | 22:36 | |
| Vidyanagar | 5:43 | 7:18 | 7:53 | 8:08 | 8:38 | 9:23 | 9:58 | 10:18 | 11:03 | 11:41 | 12:18 | 12:53 | 13:33 | 13:53 | 14:13 | 15:23 | 15:48 | 16:18 | 17:08 | 17:23 | 18:11 | 18:23 | 18:48 | 19:33 | 20:16 | 20:23 | 21:03 | 21:41 | 21:53 | 22:38 | |
| Kacheguda | 5:48 | 7:23 | 7:58 | 8:13 | 8:43 | 9:28 | 10:03 | 10:23 | 11:08 | 11:46 | 12:23 | 12:58 | 13:38 | 13:58 | 14:18 | 15:28 | 15:53 | 16:23 | 17:13 | 17:28 | 18:16 | 18:28 | 18:53 | 19:38 | 20:21 | 20:28 | 21:08 | 21:46 | 21:58 | 22:43 | |
| Malakpet | 5:51 | 7:26 | 8:01 | 8:16 | 8:46 | 9:31 | 10:06 | 10:26 | 11:11 | 11:49 | 12:26 | 13:01 | 13:41 | 14:01 | 14:21 | 15:31 | 15:56 | 16:26 | 17:16 | 17:31 | 18:19 | 18:31 | 18:56 | 19:41 | 20:24 | 20:31 | 21:11 | 21:49 | 22:01 | 22:46 | |
| Dabirpura | 5:53 | 7:28 | 8:03 | 8:18 | 8:48 | 9:33 | 10:08 | 10:28 | 11:13 | 11:51 | 12:28 | 13:03 | 13:43 | 14:03 | 14:23 | 15:33 | 15:58 | 16:28 | 17:18 | 17:33 | 18:21 | 18:33 | 18:58 | 19:43 | 20:26 | 20:33 | 21:13 | 21:51 | 22:03 | 22:48 | |
| Yakutpura | 5:55 | 7:30 | 8:05 | 8:20 | 8:50 | 9:35 | 10:10 | 10:30 | 11:15 | 11:53 | 12:30 | 13:05 | 13:45 | 14:05 | 14:25 | 15:35 | 16:00 | 16:30 | 17:20 | 17:35 | 18:23 | 18:35 | 19:00 | 19:45 | 20:28 | 20:35 | 21:15 | 21:53 | 22:05 | 22:50 | |
| Huppuguda | 5:59 | 7:34 | 8:09 | 8:24 | 8:54 | 9:39 | 10:14 | 10:34 | 11:19 | 11:57 | 12:34 | 13:09 | 13:49 | 14:09 | 14:29 | 15:39 | 16:04 | 16:34 | 17:24 | 17:39 | 18:27 | 18:39 | 19:04 | 19:49 | 20:32 | 20:39 | 21:19 | 21:57 | 22:09 | 22:54 | |
| Falaknuma | 6:05 | 7:40 | 8:15 | 8:30 | 9:00 | 9:45 | 10:25 | 10:40 | 11:25 | 12:00 | 12:40 | 13:15 | 13:55 | 14:15 | 14:35 | 15:45 | 16:05 | 16:40 | 17:30 | 17:45 | 18:30 | 18:45 | 19:10 | 19:55 | 20:35 | 20:45 | 21:25 | 22:00 | 22:15 | 23:05 | |
*

marked trains wont run on sunday.
MB1,MB2

Trains are Ladies Special.
Note:
If you notice any update or discrepancy in the above, please to let us know.
Disclaimer: This is not an official MMTS site and not affiliated with SC Railway. It is an information site run by MMTS travellers group. Click here for Official Website.